We have an online reporting system for repairs.
We have a commitment to resolve issues quickly and reliably.
This online system helps us to receive the information that we need in order to understand your problem.
It also allows you to upload photos of your problem that may help our contractors to bring the right tools and equipment to fix your problem.
To access the system please click here
https://dwellleeds.fixflo.com
or the image below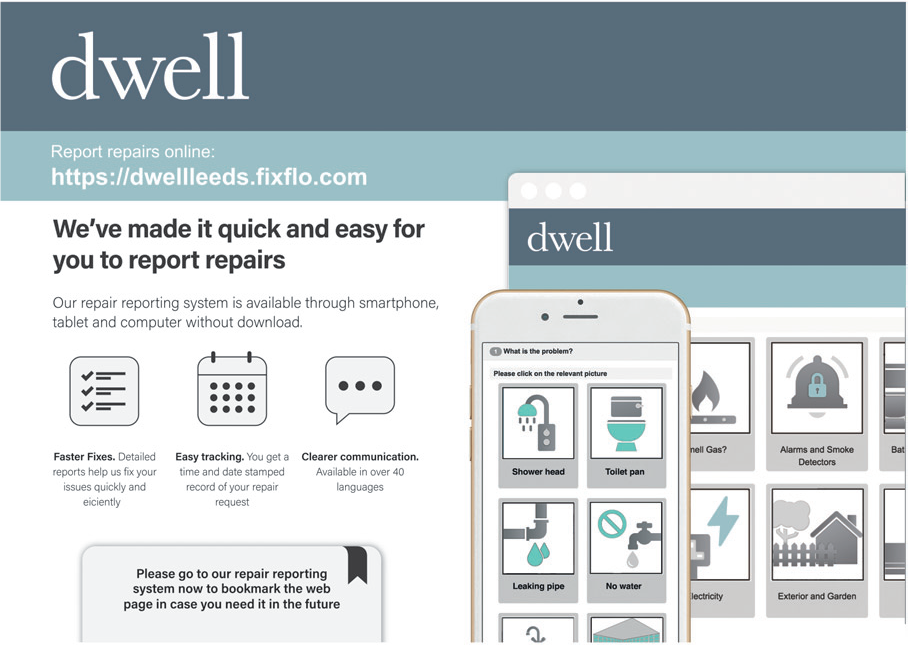 We ask that all repairs are reported through this online system. Repairs for non-emergencies that are reported online are likely to be dealt with more quickly than those that are reported by telephone or by email.
Emergencies must continue to be reported to us by telephone on 0113 357 2262 during office hours. If you have a genuine emergency that cannot wait until office hours, please consult your move in pack for our emergency mobile phone number - please then send an SMS with your name, the property address, and the nature of the issue to this number.
Please note the out of hours numbers is for emergencies only and must only be used as such, not for routine matters that may be dealt with during office hours. Below are a list of emergencies:
Break in
Leaks causing immediate damage
Loss of power (after thoroughly checking and re-setting all of the trip switches)
Fire or burglar alarm that is causing a disturbance and can't be switched off
Please note that if you have locked yourself out or lost your keys, you should contact a locksmith directly. You will need to pay the locksmith for any work they carry out in this situation. If you have had to change a lock, you will need to provide us with a new spare key as soon as possible.